Forthcoming conferences and workshops
International Symposium on 'Loess Deposits as Archives of Environmental Change in the Past'
15-23 September, 2019.
Dear colleagues,
We are pleased to announce that the
International Symposium on 'Loess Deposits as Archives of Environmental Change in the Past'
will
be held at the National Academy of Sciences of the Republic of Armenia in Yerevan, from September 15 to 22, 2019. Please reserve this date in
your schedule.
The Symposium will be organized by the Institute of Geological Sciences of the National Academy of Sciences, supported by the Technische Universität Dresden (Institute of Geography), and the Justus-Liebig University Giessen (Institute of Geography).
Scientific committee:

 

 

Daniel S. Adler
Pierre Antoine
Manfred Frechen
Natalia Gerasimenko
Slobodan B. Marković
Olivier Vincent

Organizing committee:

 

 

Lilit Sahakyan
Khachatur Meliksetian
Ara Avagyan
Boris Gasparyan
Dominik Faust
Markus Fuchs
Daniel Wolf
Further details for the symposium, including local arrangements, abstract submission and registration details will be provided in the Second circular towards summer 2018.
Do not miss this excellent opportunity to exchange knowledge with loess scientists
and take advantage to visit breathtaking landscapes in the Armenian highlands.
Save the date: 15-23 September, 2019.
Abstract submission deadline: July 15th, 2019

Please download the second circular
here
.

Please download abstract template
here
.
Please send abstracts to: loess2019@geology.am
Museums of Natural Sciences as a Factor of Development of Geotourism
Conference is postponed until 2019
CONFERENCE THEMES
1.     HISTORY OF GEOLOGY IN ARMENIA
Subtheme
•    Activities and biographies of famous naturalists.
•    The History of Museums of Natural Sciences.
•    Best practices and thematic researches in Natural History Museums.
2.    NATURAL HISTORY MUSEUMS AND CONTEMPORARY ISSUES
Subtheme
•  Scientific tourism policy and strategy and Natural History Museums. How Natural History Museums are promote economic development and investment, acting as tourist destination?
•  Natural History Museums and their tourist services.
•  Collaboration and development perspectives between Natural History Museums, specially protected areas, tour operators and travel agencies.
•  Natural History Museums as eco-education centers.
•  Eco-museum as a model of environmental Museum and the nature protection problem within its framework.
3.    GEOSCIENCE FOR SOCIETY
Subtheme
•    Protection and use of unique geological monuments.
•    Geological studies and science Festivals based on them.
•    Geotourism, ecotourism.
LOCAL ORGANIZING COMMITTEE

1.    Dr. Khachatur Meliksetian (Institute of Geological Sciences)
2.    Dr. Sci. Georgi Khomizuri (Institute of Geological Sciences)
3.    Dr. Lilit Sahakyan (Institute of Geological Sciences)
4.    Mrs. Gayane Grigoryan (Institute of Geological Sciences)
5.    Mrs. Marine Haroyan (ICOM National Center of Museums of Armenia NGO)
6.    Mr. Khachik Hakobyan (Ministry of Nature Protection of the Republic of Armenia)
Please download the first circular brochure here.
Please download the expression of interest here.
---
Past Conferences and workshops
30 YEARS AFTER THE SPITAK EARTHQUAKE: EXPERIENCE AND PERSPECTIVES
International Conference

Dear colleagues,

Օn 03-07 December 2018 the Organizing Committee announces "Spitak Earthquake- 30 years on: Experience and Perspectives" International Conference dedicated to 1988 devastating  earthquake occurred in north Armenia.
Conference is aimed at enriching fundamental and applied knowledge in geology, geophysics, seismology in Armenia and the region for better understanding of phenomena related to natural hazards; development and modernization of up-to-date regional, geodynamic monitoring networks, joint processing and data exchange, study of earthquake activity and development, as well as making the cooperation closer and more effective in this sphere.
CONFERENCE TOPICS
1. The 1988 Spitak earthquake: field observations in the epicentral area; seismicity of the region; new studies and results after 30 years; lessons learned
2. Seismological and geophysical studies; seismotectonics, paleoseismology, archeoseismology, and earthquake engineering;
3. Geo-hazards, vulnerability and seismic risk assessment;
4. Socio-economic dimensions of risk, resilience
5. Disaster risk governance, policy and regulations gaps, best practices
Official Language of the Conference is English
*Abstract submission deadline is extended till September 15 2018*
Please send your abstracts to spitak1988@geology.am
Please download the First Circular here.
Please download the abstract template here.
The Conference will also include field workshop for young specialists.
Approved abstracts and full proceedings will be published.
——————————————————————————————————–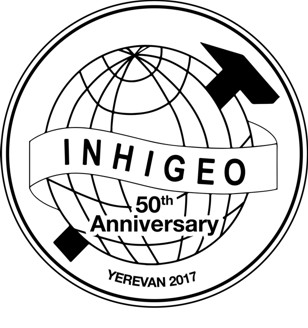 42nd INTERNATIONAL COMMISSION ON THE HISTORY OF GEOLOGICAL SCIENCES (INHIGEO) SYMPOSIUM

YEREVAN, ARMENIA, 12-18 SEPTEMBER 2017
visit INHIGEO-2017 Symposium web-site: inhigeo2017.geology.am
Direct link to registration and  registration fee payment:
---

The 5th IGCP 630 Field Workshop (2017) in Armenia
Permian and Triassic Integrated Stratigraphy and Climatic, Environmental and Biotic Extremes

 October 8- 14, 2017, Yerevan, Armenia
Organised by
IGS  – INSTITUTE OF GEOLOGICAL SCIENCES,
ARMENIAN NATIONAL ACADEMY OF SCIENCES
and
IGCP 630 Committee
After submission of registration form and making a payment you will receive
electronic invoice and official invitation to participate in the workshop
 Early bird registration fee: (20 February – 15 September 2017)
      78,000.00 AMD for conference part only at Institute of Geological Sciences – (equivalent to 150 Euro)
312,000.00 AMD for three-day field workshop (equivalent to 600 Euro)
  260,000.00 AMD for student and accompanying person for both conference part and field workshop,  (equivalent to 500 Euro)

Late registration fee: (16 Sep –  Through on-site)

Conference part only at Institute of Geological Sciences – 200 Euro

Three-day field workshop  650 Euro

Student and accompanying person for both conference part and field workshop 550 Euro
Registration fee covers:
Transportation and field excursions,
Accommodation in the field, single and double rooms in Vayk
(hotels in Yerevan are not covered),
Breakfast, lunch, dinner in the field trips

Coffee breaks and lunch during the conference days in Yerevan
and conference dinner
A
bstract submission deadline: 31 July 2017
Please send abstracts to IGCP630@geology.am
Please download abstract template here

Visa policy of Armenia:

Citizens of all European Union countries, USA and former USSR countries
do not need visas to enter Armenia.

More information is available on the website of Ministry of Foreign Affairs of the Republic of Armenia and  also here
Contact us for any questions and inquiries:

Conference email: IGCP630@geology.am
---
Past conferences:


Bridging Europe and Asia: Quaternary stratigraphy and Paleolithic human occupation in Armenia and Southern Georgia
NATIONAL ACADEMY OF SCIENCES OF THE REPUBLIC OF ARMENIA
IGS – INSTITUTE OF GEOLOGICAL SCIENCES
IAE – INSTITUTE OF ARCHAEOLOGY AND ETHNOGRAPHY
INQUA – SACCOM COMMISSION ON STRATIGRAPHY AND CHRONOLOGY
INQUA – ASQUA ASIAN QUATERNARY STRATIGRAPHY
INQUA – SEQS SECTION ON EUROPEAN QUATERNARY STRATIGRAPHY

WORKSHOP 3 – 10 SEPTEMBER 2016, ARMENIA